Enhance Your Ecommerce Store with These 10 Must-Have Magento Extensions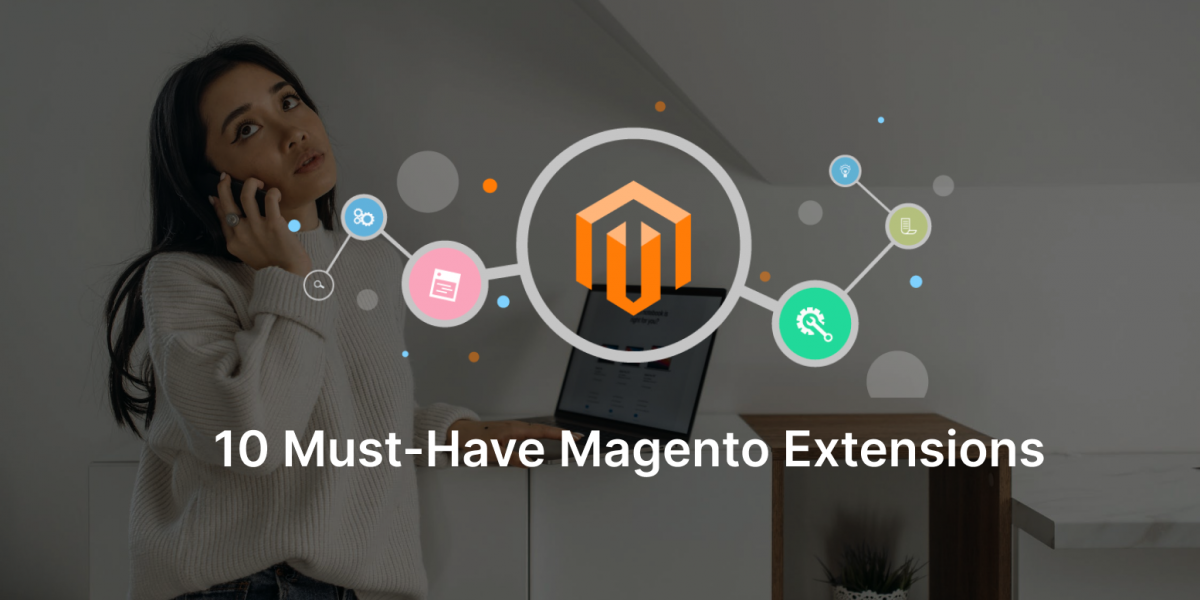 ---
As an ecommerce store owner, you understand the importance of providing a seamless shopping experience for your customers. Magento, a leading ecommerce platform, offers a wide range of extensions that can enhance your store's functionality and drive growth. In this article, we'll explore ten must-have Magento extensions recommended by Codeastrum, a trusted development agency, to take your ecommerce store to the next level.
---
1. OneStepCheckout: Streamline the Checkout Process
OneStepCheckout simplifies the checkout process, reducing cart abandonment rates by presenting customers with a single, user-friendly checkout page. It eliminates unnecessary steps, making the purchase process quick and hassle-free.
---
2. Amasty Improved Layered Navigation: Enhance Product Filtering
Amasty Improved Layered Navigation provides advanced filtering options, allowing customers to refine their search based on specific attributes such as price range, brand, or product features. This extension improves navigation and helps customers find their desired products with ease.
---
3. Yotpo Reviews: Build Trust with Customer Reviews
Yotpo Reviews enables customers to leave product reviews and ratings, fostering trust and credibility. Positive reviews serve as social proof, influencing potential buyers' decisions and boosting conversion rates. Integrate this extension to showcase customer feedback and improve the shopping experience.
---
4. MageWorx SEO Suite: Optimize Your Store for Search Engines
MageWorx SEO Suite helps optimize your Magento store for search engines, enhancing its visibility and driving organic traffic. It offers features like meta tags optimization, XML sitemaps generation, canonical URLs, and rich snippets, ensuring your store ranks higher in search engine results.
---
5. ShipStation: Simplify Order Fulfillment and Shipping
ShipStation integrates seamlessly with Magento, streamlining order fulfillment and shipping processes. It automates label generation, provides real-time shipping rates, and supports multiple carriers, making shipping a breeze for both store owners and customers.
---
6. Aheadworks Follow Up Email: Automate Email Marketing Campaigns
Stay connected with your customers using Aheadworks Follow Up Email extension. It allows you to automate email marketing campaigns, such as abandoned cart reminders, personalized recommendations, and post-purchase follow-ups. This extension helps nurture customer relationships and drive repeat business.
---
7. Mirasvit Sphinx Search Ultimate: Enhance Search Functionality
Mirasvit Sphinx Search Ultimate significantly improves search functionality on your Magento store. It offers fast and accurate search results, auto-suggestions, and filters, enabling customers to find products quickly. This extension enhances the user experience and boosts conversion rates.
---
8. Mageplaza Social Login: Simplify Registration and Login
Mageplaza Social Login enables customers to register and log in using their social media accounts, such as Facebook, Twitter, or Google. By eliminating the need for lengthy registration processes, this extension improves the user experience, reduces friction, and encourages more conversions.
---
9. Magefan Blog: Boost Content Marketing and SEO Efforts
With Magefan Blog, you can easily add a blog section to your Magento store. Publishing informative and engaging blog posts helps drive traffic, improve SEO, and establish your brand as an industry authority. Share valuable content, promote products, and connect with your audience effectively.
---
10. Fooman Google Analytics +: Gain Valuable Insights
Integrating Fooman Google Analytics + with your Magento store allows you to track and analyze important metrics, including visitor behavior, conversion rates, and revenue. These insights enable data-driven decision-making, helping you optimize your store's performance and marketing strategies.
---
These ten must-have Magento extensions recommended by Codeastrum empower ecommerce store owners to enhance functionality, improve user experience, and drive growth. By implementing these extensions, you can streamline processes, boost customer trust, optimize for search engines, and gain valuable insights.
Stay ahead of the competition and unlock your store's full potential with these powerful tools. Partner with Codeastrum to leverage our expertise and ensure seamless integration of these extensions into your Magento store.
---